If you would like to get to know Turkey through its back roads and rural lanes, traversing along the paths less traveled, here are 5 routes for epic treks across Anatolia.
The most extended and most famous hiking and trekking route in Turkey and the world and has enjoyed burgeoning popularity over the last two decades is the Lycian Way. British expat Kate Clow established it in 1999.
This route spans 540 kilometers from Fethiye in the southwestern Turkish city of Muğla and stretches along the southern coast to Antalya. It can be complete the entire way in 21-29 days on average. However, do not let the length of this path scare you; you also have the option of walking only a specific part to better suit your needs.
What makes this route a crowd-favorite is that it combines the beauty of nature – the sea, sun, and forests – with remnants of the past through ancient cities.
This cultural route hosts many important touristic places: Ölüdeniz (Blue Lagoon), Kabak Bay, Demre, Finike, Kaş and Çıralı are just a few.
You will be able to discover hidden and virgin bays along this route, walk along Turkey's longest beach, Patara, which spans 12 kilometers and enjoy breathtaking views, especially from points like Kaş and Kalkan. You could also do as the ancient Greeks did and climb up Mount Olympus or travel back in time to ancient Lycia when you stumble upon ruins.
This hiking path is not for beginners as it has steep gradients and is quite rocky. It is too hot to traverse in the summer, and spring or fall would be the best times to do so.
The Evliya Çelebi Way is a 22+ day, almost 600-kilometer trek across northwest Anatolia. This route traced the steps of Ottoman adventurer, traveler, and writer Evliya Çelebi during his pilgrimage (or hajj) from Istanbul to Mecca on horseback in 1671. However, this journey began in Istanbul centuries ago, nowadays due to heavy urbanization that is not possible.
This route is best reserved for the pros and the very fit, though the terrain is not rugged, taking hikers, bikers, and horse riders on a journey through Yalova to Kütahya.
Today'sToday's path begins at the Hersek village of Yalova on the southern coast of the Gulf of Izmit. It finishes at the town of Simav in Kütahya, built by its namesake river.
Although this path was only established as a walking route in 2011 on the 400th birth anniversary of Evliya Çelebi as celebrated by UNESCO, it has quickly become a popular trail. It is regarded as Turkey'sTurkey's first long-distance walking and riding route, as per the guide written by British expats, writers, and historians Kate Clow and Caroline Finkel.
Many stops should be on your bucket list along this cultural route. From Iznik and Inegöl in Bursa to Afyonkarahisar, Uşak, and Çelebi'sÇelebi's ancestral home Kütahya, there are many towns and cities of great historical importance to discover along the way.
Almost as long as the Lycian Way, the St. Paul Trail stretches 500 kilometers from the ancient city of Perge toward the east of Antalya to Yalvaç, the northeast of Lake Eğirdir. An alternative starting point or fork in the path starts from Aspendos, near the entrance of the Köprülü Canyon, before converging later on at the Roman site of Adada. It takes an average of 27 days to complete.
The path follows the journey of Saint Paul the Apostle, who was one of the most important names in the Christian world and was instrumental in the spread of Christianity from Anatolia to western Europe.
As Turkey'sTurkey's second-longest route, this trail encompasses Roman cities in Antalya and ancient Pisidia, namely Isparta and Burdur and Turkey'sTurkey's lake district, and countless natural beauties such as deep canyons and thick forests in this area. This trekking route is perfect for those that like to discover more remote locations.
It is excellent for exploring south and central Turkey; you can cross Lake Eğirdir by boat, hike in Tazı Canyon (aka Turkey'sTurkey's Grand Canyon), and stay in picturesque villages along the way.
With occasionally strenuous sections, this waymarked trail was opened in 2008 by Kate Clow.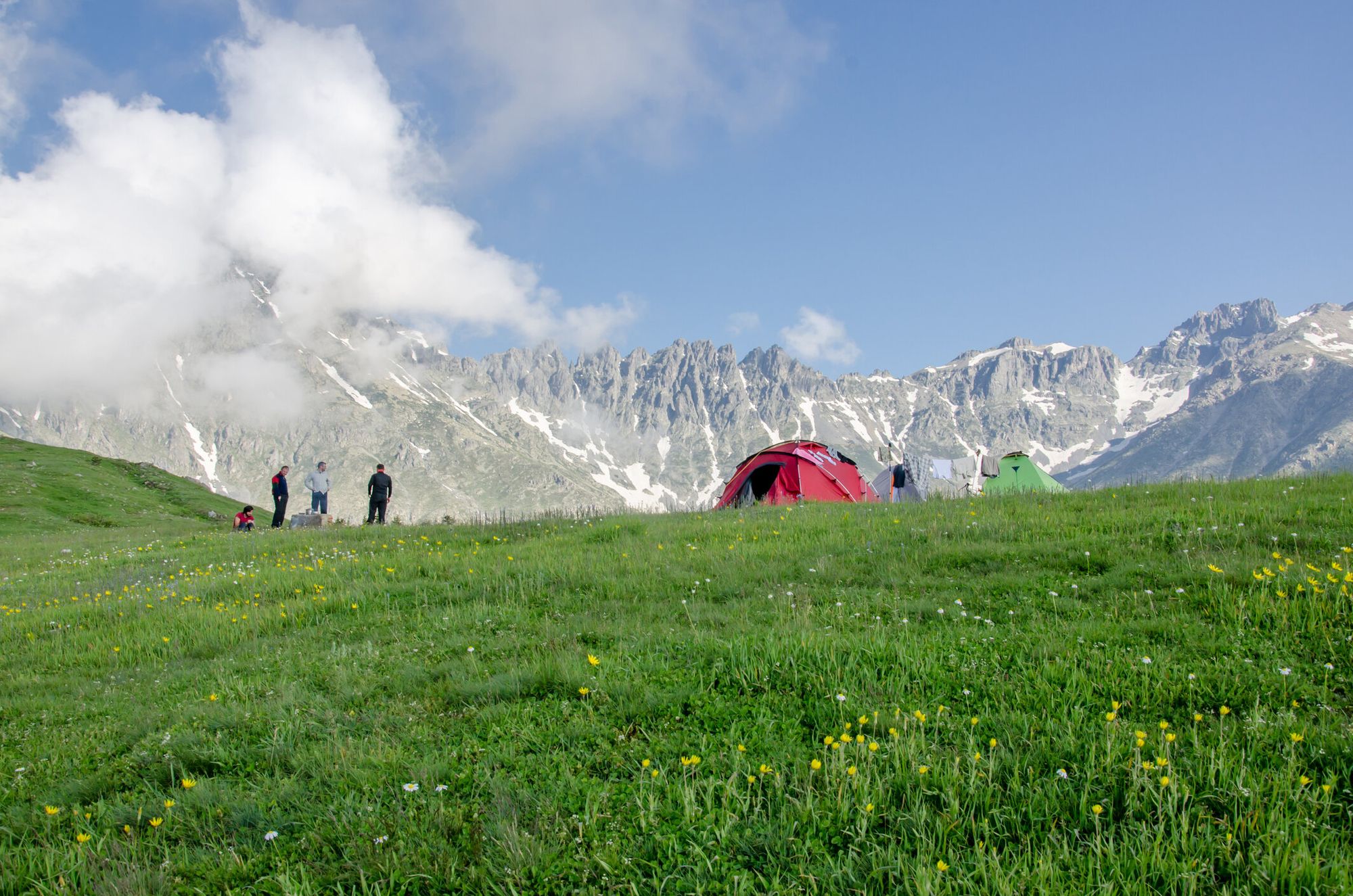 This is one of the best trails for those who want to go trekking in the lush green plateaus of the Black Sea region. Reaching as high as 4,000 meters with Mount Kaçkar, Turkey'sTurkey's 4th highest, this mountainous route starts from Çamlıhemşin in Rize and ends in Ardeşen.
It is essentially a network of dozens of separate routes that offer hourly walks or hikes for several days. You can even turn it into a month-long trekking trip to explore them all. So, if you would like the flexibility of choosing your route depending on your experience, energy levels, and time, the Kaçkar trails in northeastern Turkey may be what you need.
The routes are mostly of medium difficulty, and the dirt track and tractor paths make it easier to follow.
You will not be entirely in the wilderness when you hike along this route; plenty of yaylas are inhabited by villagers who move here during the summer to escape the heat and graze their animals. You can camp in the plateaus with your tent or stay at traditional guesthouses or bungalows for ultimate comfort.
While trekking through the Kaçkar Mountains, you will see magnificent waterfalls, verdant plateaus, and glacial lakes. The route encompasses Başyayla, Elevit, Tirovit, the Lower Kavron Plateau, and Ayder, among many others.
The Palovit Plateau, one of the highest places in Turkey, is a highlight for many hikers. One of the oldest forests globally, the plateau and surrounding trails are ideal for walking, especially in the hot summer months, as the forests remain relaxed throughout.
You can also spot various wildlife such as bears and wolves and visit Georgian churches that date back to the 10th century along the way.
Although less popular than Mount Kaz (Ida), this route is just as oxygen-rich.
If you want something similar to Kaçkar but is more beginner-friendly and seek trails that are easy to access from Istanbul and Ankara, the Yenice Forest Trails may be an excellent option to look into.
These trails run through the woodlands of the town of Yenice in Çanakkale, offering 21 main alternative walks that can take anywhere from a few hours or a day's walk to three.
If walking bores you after a while, you will be pleased to know that this trail is also great for bikers and horse riders. For seasoned adventurers and hikers, valleys and canyons such as the Şeker Canyon also await along this route.
It spans approximately 396 kilometers, with the trails now extending to Eskipazar in Karabük to include the ancient ruins of Hadrianopolis and Kimistene. Other must-sees along the way are the Arboretum, the Karabük Eğriova Lagoon, and Safranbolu, which is famous for its Ottoman houses and saffron harvest.
Yenice and this trail, which was created in 2009, was designated as a "hot spot" of biodiversity in 1999 by the World Wide Fund for Nature (WWF) and is one of the nine such protected places in Turkey.