Welcome to Türkiye
Incredible natural wonders, incomparable climatic conditions, and a rich historical legacy! You are invited to bask in the warm rays of the sun and swim in the crystal clear waters of the Mediterranean every month of the year on the idyllic Turkish Riviera. This verdant coastal region is home to many historical sites, including old cities, castles, ports, and temples.
Where is Türkiye?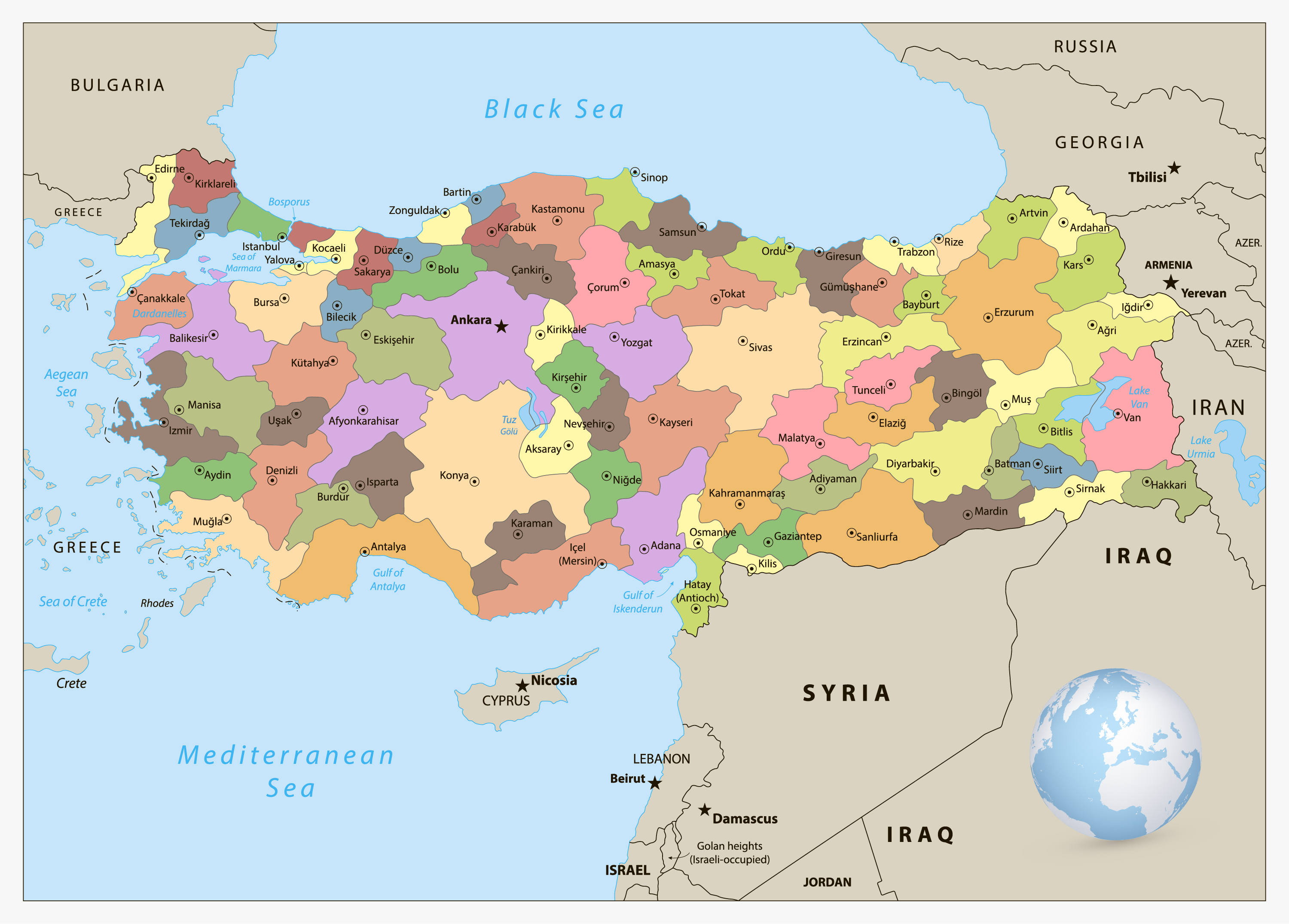 Türkiye is a vast peninsula, covering an area of 783,562 km2 and connecting Asia to Europe through the Sea of Marmara and the straits of İstanbul (Bosphorus) and Çanakkale (Dardanelles).
Standing at the crossroads of the East and the West, Türkiye offers a synthesis of the traditional and the modern, the old and the new.
Türkiye has a unique location as a peninsula surrounded by three seas: Black Sea in the north, Aegean Sea in the west, Mediterranean in the south, with a coastline of 8000 km (5100 miles)
Türkiye is located on a land geographically called Asia Minor or Anatolia (97% of the land) and Eastern Thrace or simply Thrace. Thrace, the European portion of the country comprises of 3% of land and 10% of the population.
Geography & Regions
Türkiye's varied landscapes are the product of a wide variety of tectonic processes that have shaped Anatolia over millions of years. The high plateau of Central Anatolia is folded by mountains to the north and south with a median elevation of 1500 m. Gently sloping land towards the coastal plains form fertile valleys.
Türkiye geologically is part of the great Alpide belt with Taurus Mountain range extending along the Mediterranean parallel to the sea.
Türkiye's highest peak is the 5140-metre-high Mt Ağrı close to the north-eastern end of the peninsula.
Türkiye is geographically divided into 7 regions. These regions were separated according to their climate, location, flora and fauna, human habitat, agricultural diversities, transportation, topography. 4 coastal regions and 3 inner regions were named according to their proximity to the four seas surrounding Türkiye, and their positions in Anatolia.
Black Sea Region.
Marmara Region.
Aegean Region.
Mediterranean Region.
Central Anatolia Region.
Eastern Anatolia Region.
Southeastern Anatolia Region.
Unique Selling Points
Türkiye is home to infinite locations that are beyond your wildest dreams! Full of ancient sites, unique beauty, and unparalleled destinations, visiting Türkiye is an unforgettable experience.
A combination of history and natural beauty
19 UNESCO World Heritage Sites; in addition to 84 sites in the Tentative List
İstanbul –a world metropolis on two continents
Cappadocia –a fairy landscape with hot-air balloons
Antalya –perfect all-inclusive resort city for family vacations
Bodrum –an Aegean luxury escape for honeymooners
Rich cuisine with a variety of vegetable, meat, poultry dishes and desserts
With over 8,000 km of coastline and over 531 blue flag beaches
Four seasons throughout the country
Traditional hospitality – a cornerstone of Turkish culture
Top Destinations
İstanbul, Marmara Region,
Antalya
Cappadocia
Bodrum
Pamukkale
İzmir
Edirne
Bursa
Mardin
Gaziantep
Kars
Experience Türkiye
Find out the uniqueness of life, enter the world of irresistible tastes, pass through the traces of civilizations, go beyond the magic of skyline. With adventures waiting for you all around the country, Türkiye offers memorable experiences, unique tastes, and magical landscapes. Türkiye is home to infinite locations that are beyond your wildest dreams! Full of ancient sites, unique beauty, and unparalleled destinations, visiting Türkiye is an unforgettable experience.
Historical Facts
Modern Türkiye was founded in 1923 as Republic of Türkiye following the Independence War and the remnants of the WWI defeated Ottoman Empire. Mustafa Kemal, who was later honoured with the title Atatürk or "Father of the Turks" is the founder of the Turkish Republic and the first President of the Turkish Parliament. Under his leadership, the country adopted radical social, legal, and political reforms.
General Facts
Capital City: Ankara
Population: 82 million
Currency: Turkish Lira
Religion (etiquette): 99% Muslim
Language: Turkish
Time Zone: UTC +3 all year
Business Hour: 09:00-18:00
Working Days: Monday-Friday, Saturdays and Sundays are holidays.
Climate Facts and Figures
Türkiye's western, eastern and central regions all have different climates.
The coastal areas generally have a mild climate, but the coast of the Black Sea is colder than that of the Mediterranean. The interior has a continental climate, with cold, snowy winters and hot, dry summers, with nights remaining mostly cool.
Summer is dry and sunny throughout the country, except on the northeast coast. In all the inland and south-central regions, the driest months are July, August and September.
The climate can be described as transitional Mediterranean, with relatively cold winters and hot and quite sultry summers.
The sun shines regularly in summer in the Aegean and the Mediterranean, while in winter there is an alternation between cloudy and sunny days. The sun shines quite often even in winter, except in periods of bad weather, while in summer the sky is normally clear.
The Aegean cities beyond the hills that run parallel to coastline enjoy a more continental climate. For sunbathing and water sports as well as mountain sports, the region's summer months can't be beat. Temperate spring and fall are ideal for traipsing through ancient ruins.
Along the west coast of Türkiye, overlooking the Aegean Sea, where the remains of ancient cities like Pergamum and Ephesus are found, the climate is Mediterranean, with mild, relatively rainy winters and hot and sunny summers. Summer lasts nine months, but apart from midsummer, the coast is quite bearable. Sunny weather prevails 300 days of the year, and sea temperatures never dip below 15°C (59 °F) nor exceed 28°C (83 °F).
The entire Mediterranean coast is protected from cold northerly winds by the Taurus Mountains. Summer is sunny and hot: the maximum temperatures are around 30 °C (86 °F) along the coast, and they rise to 34-35°C (93-95 °F) towards the interior, in the western valleys where cities like Pamukkale are found. High-temperature records are around 40 °C (104 °F). Summer, however, is tempered by the breeze along the coast of the Aegean Sea, though at times the breeze is replaced by a strong and persistent wind from the north, called meltem. Here are the average temperatures.
In the vast inland plateau, the climate is continental, with significant variations both between night and day and between winter and summer Summers are bone dry and hot, with day temperatures averaging 29°C (84 °F), falling to the mid-teens (c. 59°F) at night. Winters are cold and snowy.
Religion
Throughout history Türkiye has hosted myriads of people, numerous cultures, and today, a great array of important monuments are scattered all across the country. From ancient temples to modern-day mosques, Asia Minor has played a significant role in the history of religions with its spiritually and its numerous sacred sites stretching back many centuries.
Modern Türkiye is home to various religious monuments, relics, and ruins with deep cultural value for the world and an incredibly rich and much-favoured destination for religious tourism.
Türkiye is a secular Republic and the majority of its population is Muslim. So, the call for prayer (ezan) can be heard five times a day and the country alongside the secular national holidays has two religious holidays: Ramazan Bayramı and Kurban Bayramı.
Mosques are usually closed to visitors during prayer times. As in any place of worship, visitors should speak quietly and behave respectfully. Everyone should wear clothes which cover their legs, so no shorts for either sex, and women should also make sure that their shoulders and head are covered. Shoes must be removed before entering a mosque.
Shopping
From open-air markets and covered Turkish bazaars to chic designer boutiques, brand stores, numerous shopping malls and outlet centres, Türkiye is a shopper's paradise.
Visitors love to bring back beautiful goods and souvenirs to their country. To name a few antiques, apparel, old books, maps and prints, brass and copper objects, carpets and kilims, ceramics, evil eye beads, jewellery, silk and cotton fabrics and textile products, spices and herbs, wood and inlaid furniture are some of the shopping highlights.
Notes on
Credit and debit cards are broadly accepted.
Contactless payment systems are widely utilized throughout the country.
Home bank debit cards work in Turkish ATMs.
Currency exchange offices are available in markets and commercial areas.
Banks and post offices also offer currency exchange service.
Communication
Foreign visitors may use their personal mobile device for up to 120 days via international roaming or with a Turkish SIM card without having to pay customs duty, or to register it. After 120 days, they must register the device and pay the registration fee, or the device will be blocked from mobile phone networks.
Türkiye has three mobile phone operators and mobile phone networks offer an excellent coverage throughout the country. Regular, mini and nano SIM cards are available for all three operators.
Internet connection, ADSL, VDSL and wireless are often used, and Wifi (wireless Internet connection), usually free, is common all over Türkiye.
Transportation
Air Connectivity
Türkiye is considered as one of the most developed countries in Europe in terms of the connectivity and the volume of the aviation industry.

In the past decade, the international air transportation sector expanded 5.6% worldwide, while Türkiye achieved the growth of 14%. Türkiye has more than 55 civil airports.
İstanbul Airport
Providing service in Istanbul, the intersection of Asia, Europe and the Middle East, the Istanbul Airport serves as one of the world's most significant aviation hubs at a strategic geographical position connecting continents.

The Istanbul Airport launches flights to a total of 146 destinations at various continents within 3 hours connecting 120+ countries, 60+ capital cities, 250+ international and 50 domestic destinations.

When the airport will be running in full capacity, the number of flight destinations will be more than 350.
Sabiha Gökçen Airport
Located in the Asian part of Istanbul, Sabiha Gökçen Airport is only 1-hour drive from Istanbul Airport.
Both international and domestic flights operate from Sabiha Gökçen Airport.
Sabiha Gökçen Airport has been selected as the "Airport of the Year" in the 30+ million passenger capacity category at Center of Asia Pacific Aviation (CAPA) Awards for Excellence 2019.
Low-cost airline companies like Pegasus and Anadolu Jet use Sabiha Gökçen Airport as their hubs.
Other Major Airports in Türkiye
Antalya Airport
Ankara Esenboğa Airport
İzmir Adnan Menderes Airport
Milas-Bodrum Airport
Dalaman Airport
Domestic Airline Companies
High Speed Trains
Increasingly popular
Connecting Ankara, the capital and İstanbul, the most populated city
High speed lines with a speed up to 250 km/h: Istanbul-Eskişehir-Ankara-Konya
Inter City Coach System
Modern, comfortable intercity bus system.
Affordable prices and quality service.
Connects almost all cities of the country.
One may find roundtrip buses between Antalya-Bodrum, Antalya-Pamukkale, Antalya-Fethiye; Pamukkale-Kuşadası, Kuşadası-İzmir; Kapadokya-Konya, Kapadokya-Antalya, Kapadokya-Pamukkale, Konya-Antalya.
Rent-a-car
Rent-a-Car System and using the driving licence
Well-maintained modern roads.
Major international rent-a-car companies available.
Possibility to rent a car for people who are 21 years old or older.
Passport & Visa
Diplomatic passport holders are exempt from visa for their travels to Türkiye for up to 90 days. Ordinary, Special and Service passport holders are required to have visa to enter Türkiye.
For visa information for foreigners, please check: https://www.mfa.gov.tr/visa-information-for-foreigners.en.mfa
It might be possible to get a single-entry e-Visa valid for one month via www.evisa.gov.tr or a sticker visa –easily applied at the visa processing centres or foreign missions. One can acquire the visa with limited number of documents.
Group Visas
The visa process for guests of MICE and destination weddings can be co-handled with the organizer. The requirement of many personal documents is waived in such a case.
Accommodation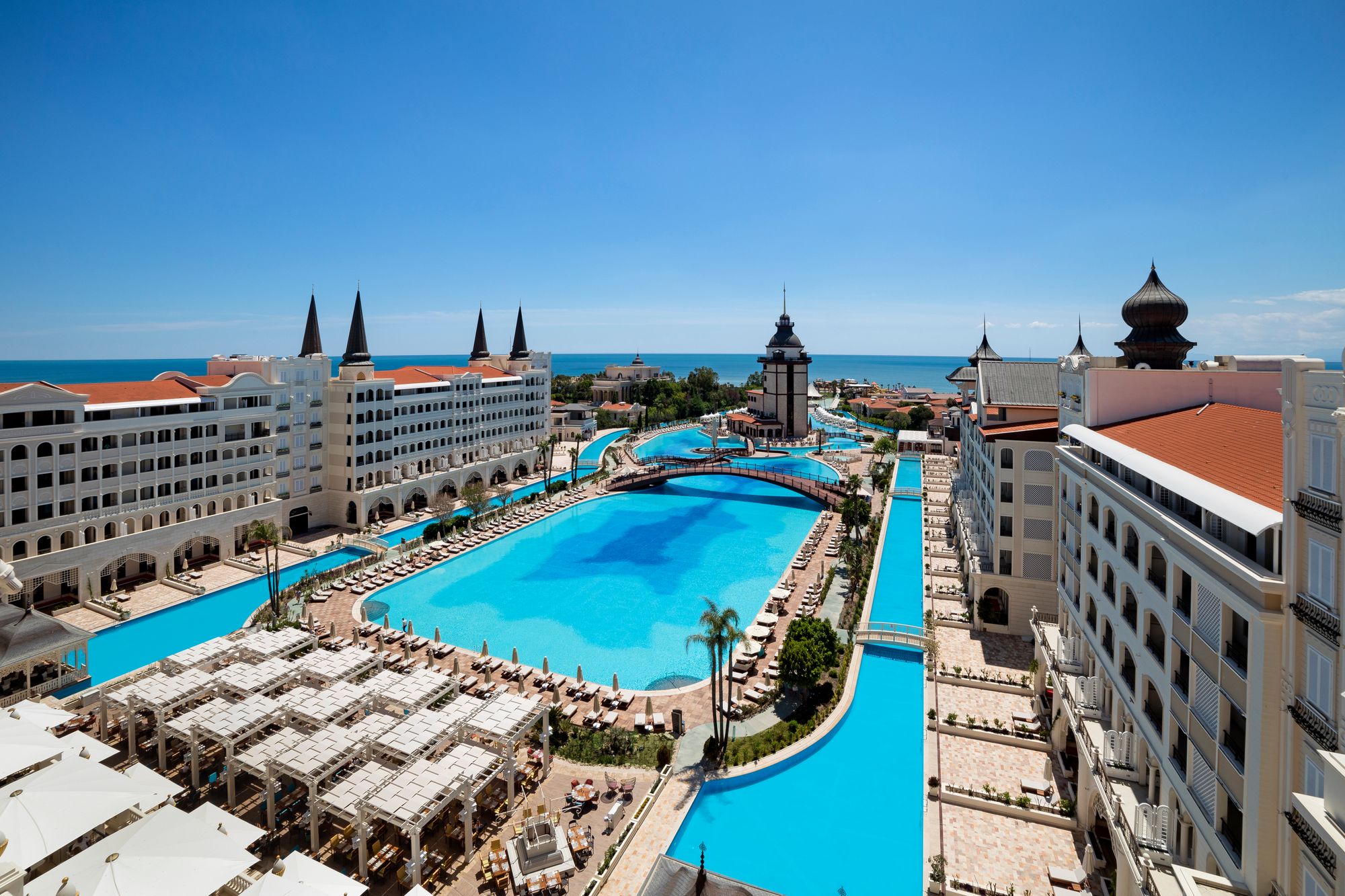 Türkiye houses around 4600 Hotels with a total of 1.3 million bed capacity.
670 5-Star hotels with a bed capacity of 5 lakhs.
820 4-star hotels with a bed capacity of 2.4 lakhs.
City hotels operating in destinations such as Istanbul and İzmir and Ankara. These usually operates on bed and breakfast system.
Resort hotels with all-Inclusive (AI) System operates in leisure destinations such as Antalya, Bodrum, Fethiye and Kuşadası.
In Türkiye, almost 90% of the resort hotels operate on all-inclusive system which simplifies that food and beverages (including liquor) consumed in the hotel are included in the accommodation package.
Most of the all-inclusive resort hotels located in Antalya and Bodrum.
Apart from these, Special Category hotels also operate in Türkiye. Historical hotels and historical boutique hotels, cave hotels (especially in Cappadocia region, very popular among the travellers).
Turkish Cuisine
Türkiye may be famous for its kebabs, but the popular dish is just the tip of the iceberg when it comes to Turkish cuisine. Thanks to its geography and the heritage of Ottoman Palace kitchens, Türkiye's food culture is rich and diverse. Therefore, it is impossible to fit Turkish cuisine into a short list. Yet, it can be categorized based on ingredients and regions.
Turkish cuisine incorporates a huge range of vegetable dishes known as zeytinyağlı yemekler – dishes cooked in olive oil. Traditional Turkish foods rely less on seasonings and more on tasty fresh ingredients. Therefore, Turkish cuisine provides a large variety of vegetarian and vegan food.
Best known meat dishes are a variety of grilled meats known as kebap as well as şiş kebap –kebab on skewers, grilled local fish, köfte (meatballs) or döner; beaten pieces of meat seasoned with suet, local herbs and spices, skewered on a spit and grilled vertically.
The country, located on a peninsula surrounded by three seas offers a rich variety of seafood dishes accompanied by small platters of 'meze', a selection of small dishes served at the start of the meal.  Soups made with vegetables and grains, yogurt, pastries, desserts are the most common additions of lunch or dinner menus.
Turkish breakfast is a rich experience accompanied by brewed local black tea, bread and fresh white cheese, medium-hard cheese (kaşar peyniri), black and/or green olives (zeytin), butter, honey, jam, omelette or boiled eggs, sliced tomatoes, cucumbers and/or other vegetables.
Turkish desserts are extremely famous all around the world: Baklava, lokum, helva, milk puddings, confectioneries, fruit desserts, pastry desserts and a lot of healthy varieties made with grape molasses… Turkish Maraş ice cream is renowned with its sahlep base (a flour made from the tubers of the orchid) and the traditional way of serving it.
Interested in Turkish residency?
Even if you are just passing by we'd love to hear from you.
Get in touch