Lately, there have been misleading reports going around on social media that claim 39 districts in Istanbul will no longer be accepting applications by foreign nationals for residence permits. These reports have gone as far as alleging that the entire city of Istanbul will be denying and revoking all residence permits to foreigners.
Turkish Government Refutes the Claims
However, these claims are unfounded and the Turkish government has assured foreign nationals that it will continue to accept and process residence permit applications from foreign nationals.
In fact, to erase confusion, the government recently issued a statement detailing the changes that may affect some foreign nationals who plan to or are currently residing in Istanbul.
Titled "Press Release Regarding the Allegations of '39 Districts in Istanbul Being Closed to Residence Permit [Applications] by Foreigners" and dated July 16, 2023, the Turkish government said it felt the need to clarify its recent decisions and inform the public about the situation to prevent misinformation from circulating and causing panic.
The press release said that the directorate of migration management periodically conducts population density analyses of the foreign national population in provinces across Turkey, both on a neighborhood and district level, and takes measures to ensure a fairer and more balanced distribution of such populations and prevent condensation in certain areas.
As part of these measures, the government:
● Closed Istanbul to the address registration applications of Syrians under temporary protection in 2019,
● Stopped accepting new residence permit applications in the Fatih and Esenyurt districts of Istanbul in January 2021,
● Added the districts of Avcılar, Bahçelievler, Başakşehir, Bağcılar, Esenler, Küçükçekmece, Sultangazi, and Zeytinburnu, in addition to Fatih and Esenyurt, to the list of districts no longer accepting new residence permit applications, as a result of the evaluation made in October 2022.
As of July 1, 2022, in all provinces across Turkey, 1,169 neighborhoods in 63 provinces, where the ratio of foreign nationals to Turkish nationals exceeds the 25% limit, have been closed to new registrations by foreigners. In Istanbul, the number of neighborhoods not accepting residence applications currently stands at 54.
The statement concluded that the allegations that 39 districts in Istanbul were closed to residence permits did not reflect the truth, and only 10 districts in Istanbul are currently closed to new residence permit applications.
Checking Neighborhood Eligibility for Residence Permits
Can I check whether my neighborhood accepts new sign-ups?
If you are unsure whether you are affected by these measures and whether your neighborhood or district still accepts residence permit applications by foreigners, check out this interactive map and downloadable list.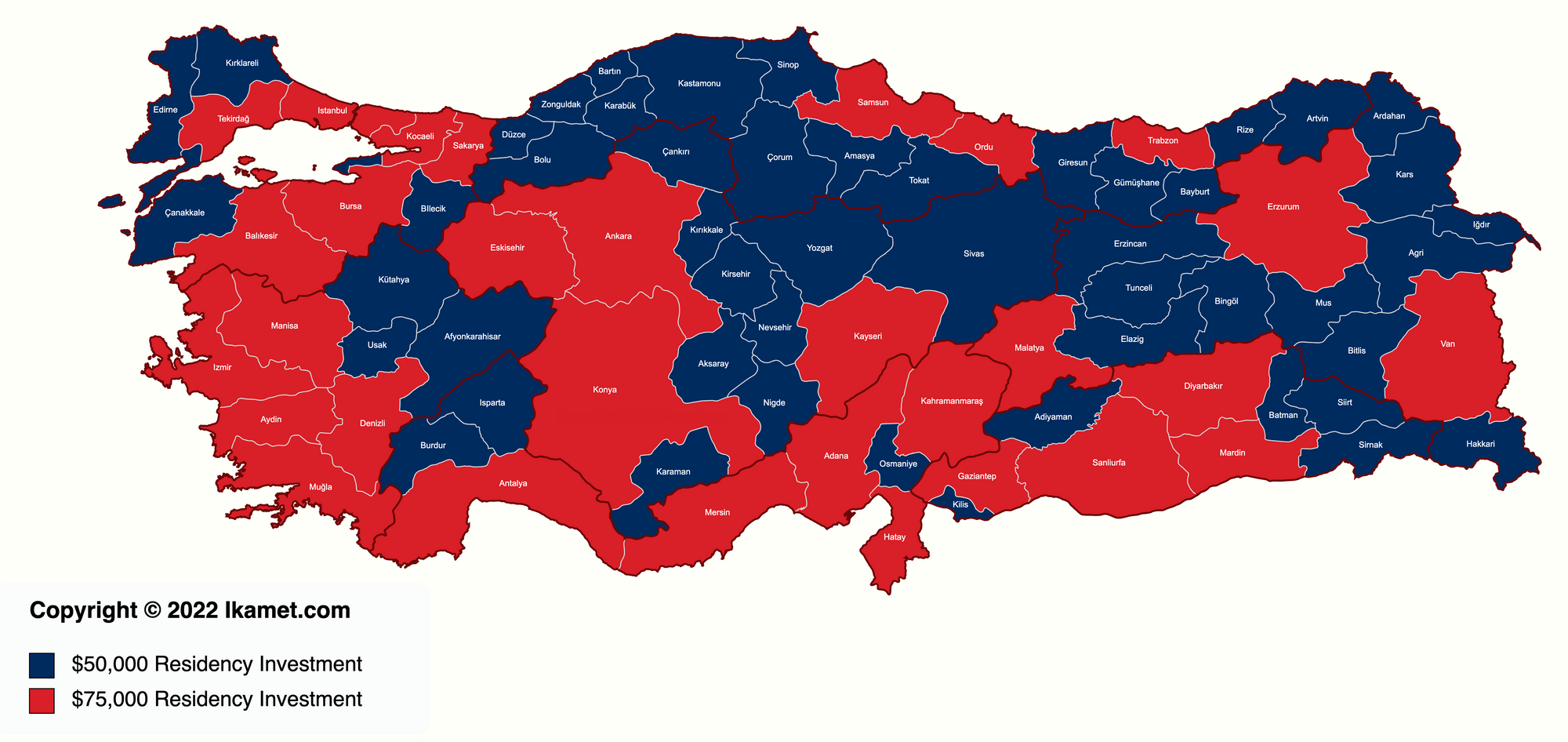 Easiest Types of Residence Permits in Turkey
Which type of residence permit is currently the easiest to get in Turkey?
Currently, the most favorable permits to apply for are family permits, reunification visas and permits, medical permits, and student permits.
Getting residence permits renewed also seems to be going smoothly, provided that all your supporting documents, such as a mandatory utility in your name, a 6-month Turkish bank statement along with sufficient money, and having your address registered at the place of your residence, are complete.
If you'd like to read more about opening a blocked bank account in Turkey, check out our blog.
Conclusion
The recent claims circulating on social media about Istanbul's 39 districts no longer accepting foreign national residency permit applications have been proven to be false. The Turkish government has clarified its position, assuring foreign nationals that they can still apply for and process residence permits in Istanbul. While certain measures have been taken to address population density in specific districts, the majority of Istanbul remains open for residency applications. It's crucial to rely on verified information and official statements to avoid misinformation and unnecessary panic. As expats in Istanbul continue their daily lives, they can be assured of their rights to apply for residence permits and enjoy the rich culture and experiences the city has to offer.
Ikamet will help you apply for a residence permit in Turkey by providing information, such as the documents you need and the application fees. Subscribe to our newsletter and get all the latest posts sent directly to your inbox.