Every travel aficionado's list must feature some thrilling activities, and for those determined to have a holiday filled with adventure this year and are passionate explorers longing for the immense outdoors, these four spots in Turkey are indispensable additions to your travel bucket list.
Turkey, enriched by its exceptional geographical location encircled by four seas – the Mediterranean, Aegean, Black, and Marmara – is a treasure trove of exhilarating holiday destinations. The combination of different seas, seven unique climatic zones, towering mountain ranges, and a plethora of diverse rivers and lakes make Turkey an abundant source of exciting outdoor ventures. In truth, Turkey ranks as one of the premier global destinations for a host of renowned outdoor sports and activities.
Given the scarcity of international flights and additional risks associated with extensive travel, now is the ideal time to explore Turkey's splendid outdoors and commence ticking off your adventure travel bucket list. Here are four marvelous destinations in Turkey that are bound to fulfill your travel and adventure aspirations. Don't forget to add them to your Turkey bucket list!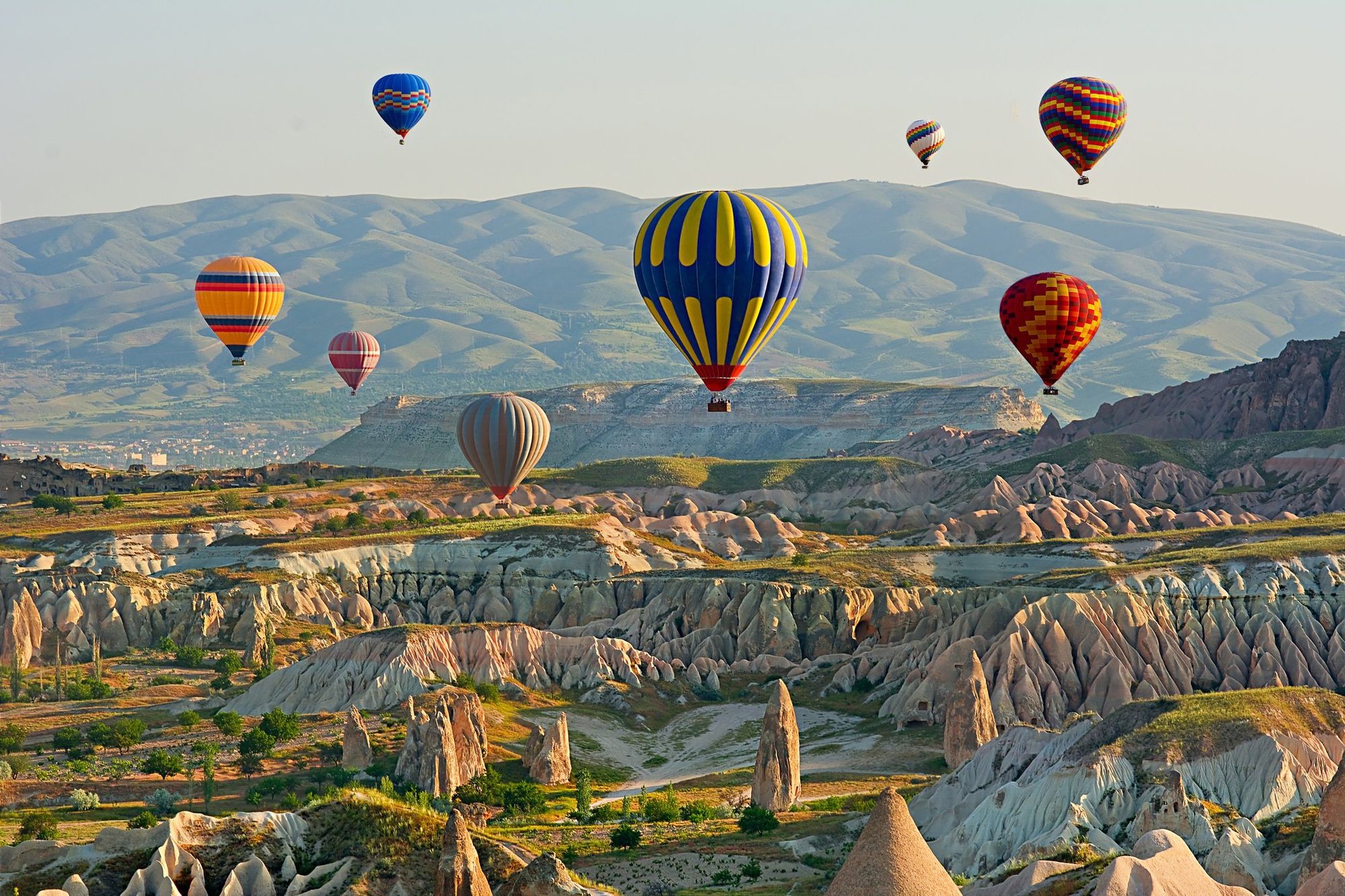 Hot Air Ballooning in Cappadocia
Cappadocia is globally renowned for providing an unparalleled hot air ballooning experience. The region is distinguished by its fairy chimneys and ancient underground caves adorned with mosaics, tracing back its history to before the fourth century B.C. A balloon ride here is a vital and awe-inspiring adventure, allowing you to witness around 100 colorful balloons taking to the skies at dawn. Also, savor the opportunity to lodge in cave hotels and explore the scenic valleys on horseback. Remember, weather conditions might cause cancellations, so book early!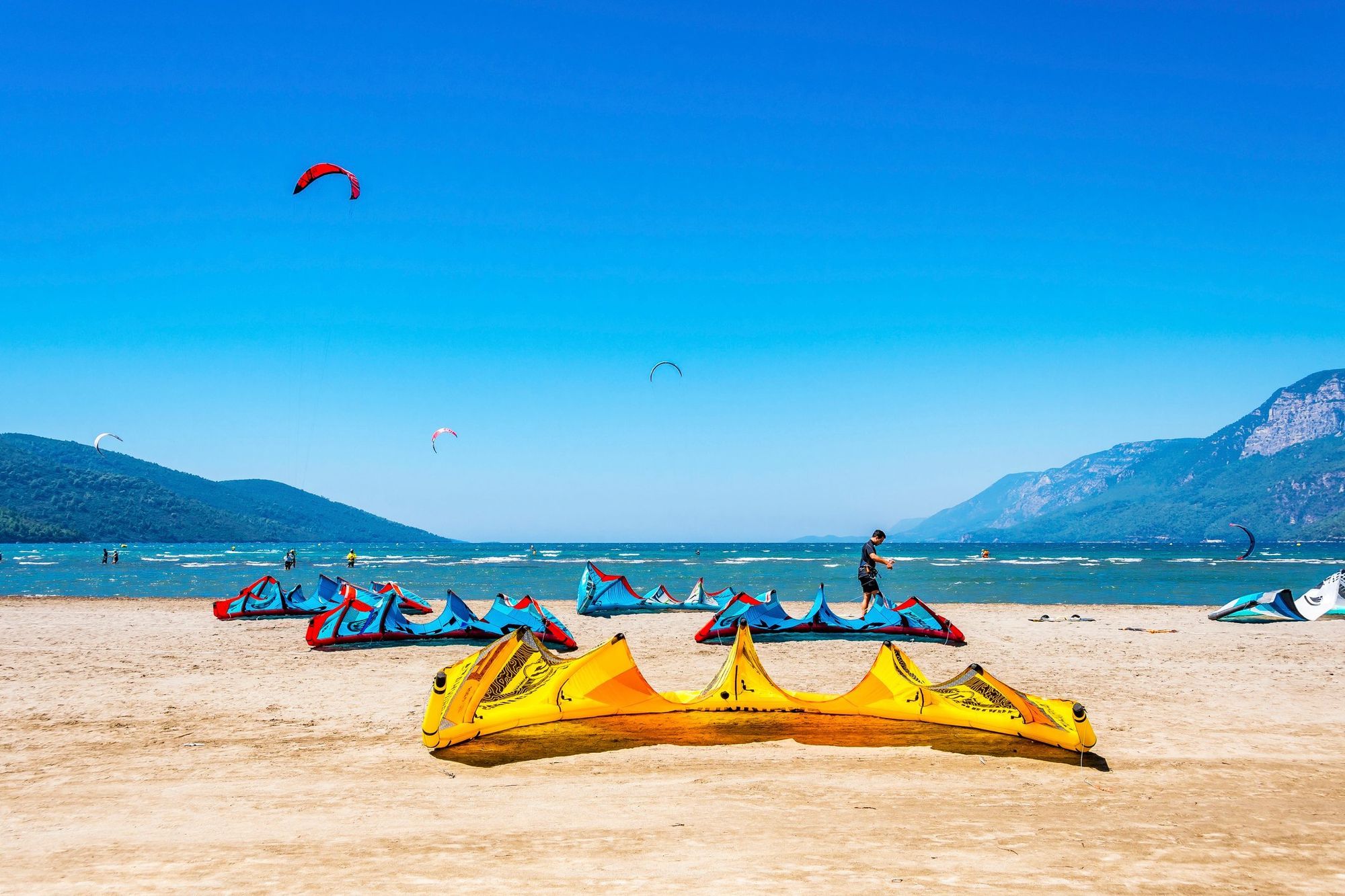 Kitesurfing at Akyaka
Akyaka, situated on the Gulf of Gökova near Marmaris, is a haven for kitesurfing enthusiasts, offering ideal conditions and facilities to master the sport. It is renowned for its shallow sandy waters and consistent thermal winds, hosting schools that can help you learn kitesurfing in less than a week. The town, characterized by its distinctive Ottoman architecture, is a hub for adrenaline seekers and also offers serene canoeing experiences on the Azmak River.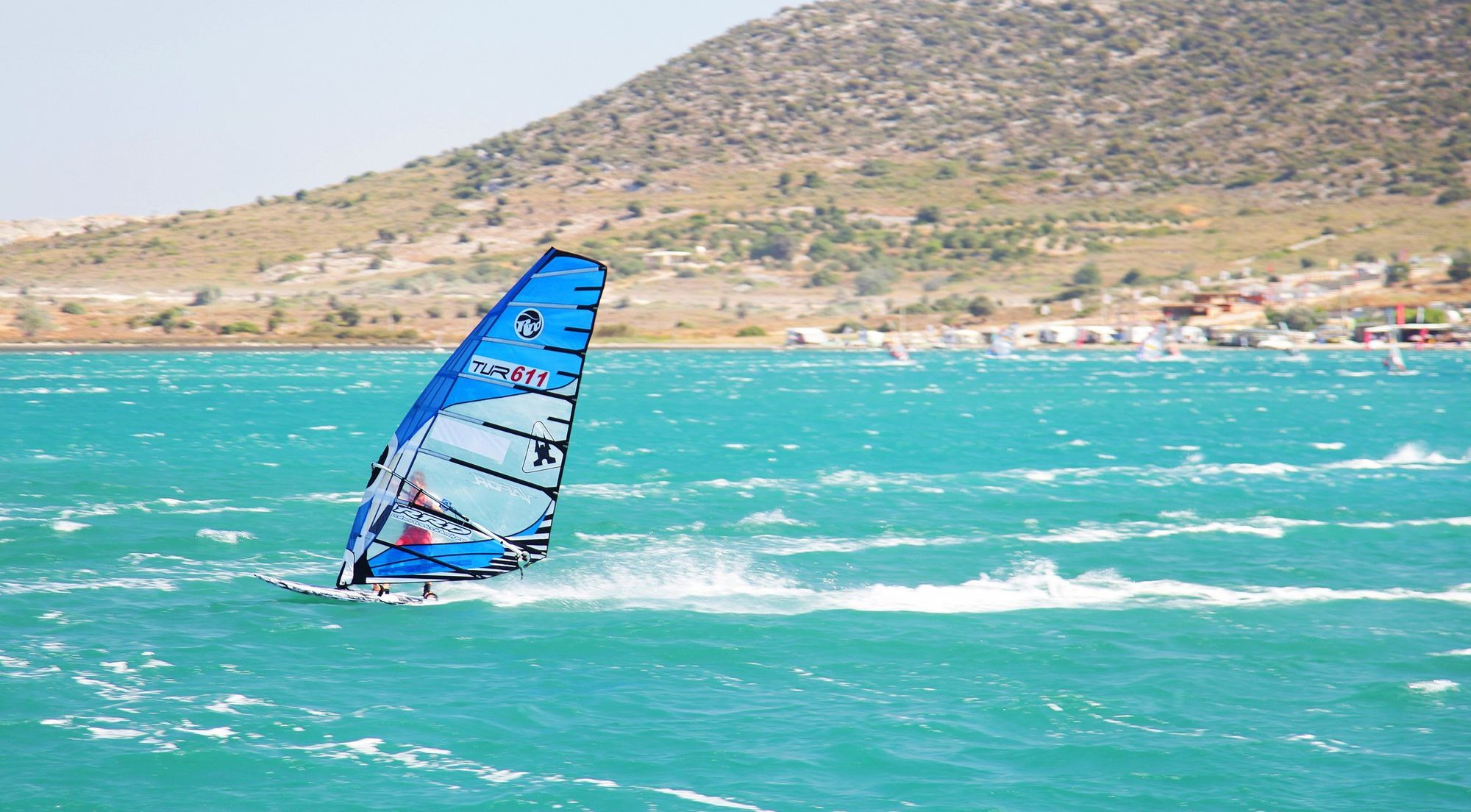 Windsurfing in Alaçatı
Alaçatı is a world-renowned windsurfing destination and a stylish vacation spot in Turkey. The town, discovered by European surfers three decades ago, is now dotted with boutique hotels and restaurants set in stone buildings reflecting Greek architecture. Although it's a hotspot for socialites, several schools along the beach provide lessons for those willing to try windsurfing, offering an experience amidst consistent winds and shallow waters.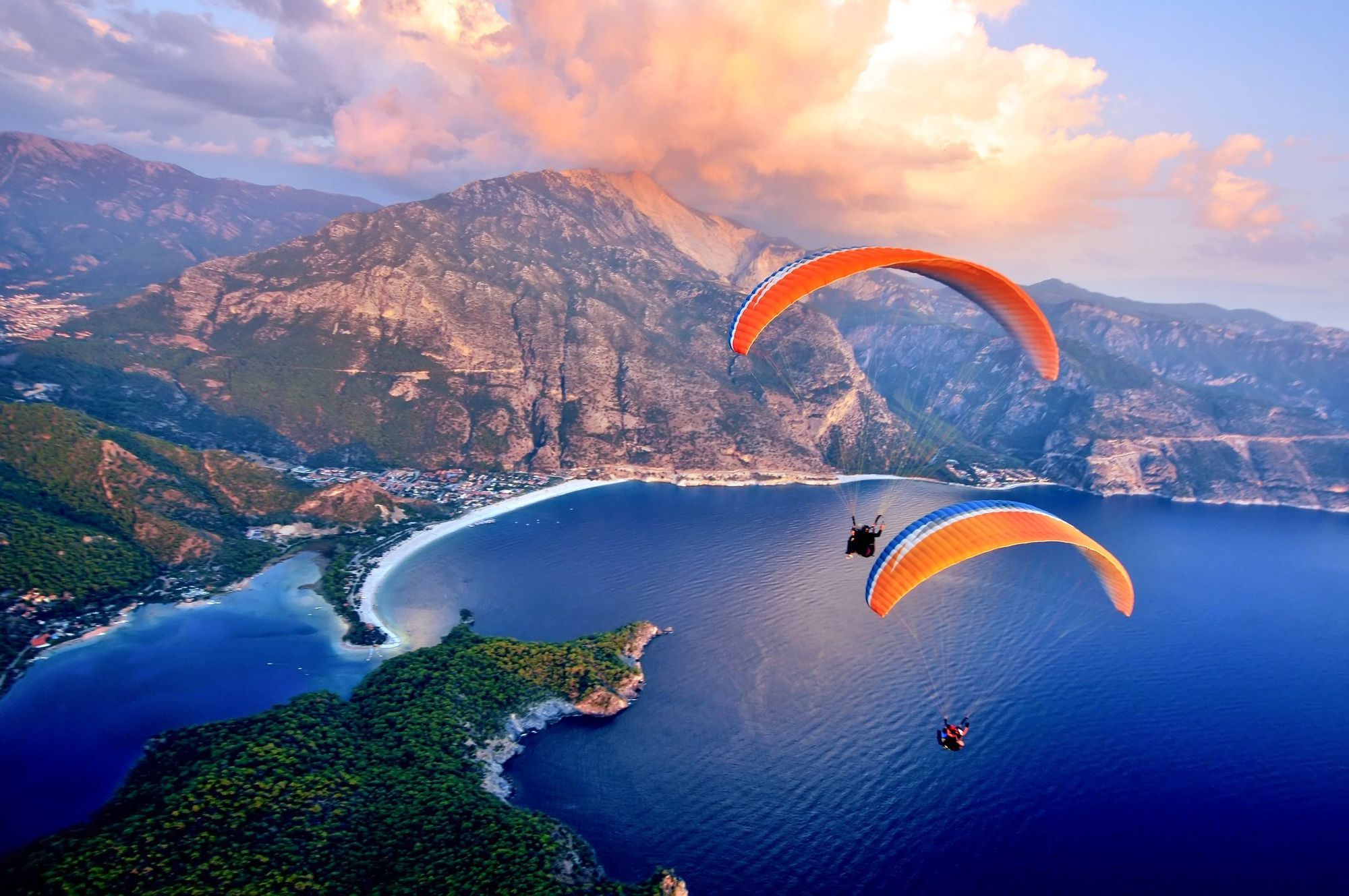 Paragliding in Ölüdeniz
Paragliding in Ölüdeniz is a must for your Turkish adventure bucket list. The town of Ölüdeniz in Fethiye is famed for its blue lagoon and natural reserves, offering breathtaking views from 2,000 meters above on Babadağ Mountain. The place offers a variety of options, including boat trips, river rafting, and hiking paths along the Lycian Way. Neighboring areas like Faralya and Kabak valleys provide tranquil and secluded destinations, with the latter being a popular yoga retreat spot.
Each of these destinations offers its unique flair, combining adrenaline, natural beauty, and a touch of local charm, making them essential inclusions in your Turkish adventure bucket list. With international travel being constrained, exploring the indigenous marvels of Turkey can be the adventure-packed solace for every travel enthusiast.
Motorcycling through Kemer
Kemer, located in the province of Antalya, blends panoramic landscapes with winding roads, emerging as a coveted destination for motorcycling enthusiasts. A motorcycle journey through Kemer unfolds the picturesque beauty of the Taurus Mountains juxtaposed with the enthralling Mediterranean vistas. It's a harmonious fusion of adventure and tranquility, allowing one to relish riding through multifarious terrains. The smooth and meticulously maintained roads of Kemer navigate through dense woods and quaint hamlets, opening gates to the rich culture and warm hospitality of the locals.
Turkey's Diverse Charm
Each of these Turkish destinations contributes a distinctive charm, converging adrenaline, scenic beauty, and a dash of local allure, making them indispensable additions to your adventure itinerary. Whether you are on the hunt for adrenaline spikes, tranquility, or a melange of both, the diverse Turkish terrains and activities guarantee lasting memories.
The Cultural Blend
While adventuring through the Turkish landscapes, the historical charm that cities like Akyaka and Alaçatı bring are not to be missed. The cultural amalgamation seen in the architecture and the lifestyle of the locals adds to the richness of the experience. Turkey's illustrious past is evident in the ruins and historic sites found abundantly across regions like Kemer, providing a deeper insight into the country's glorious heritage amidst the adventurous exploits.
Conclusory Reflections
In this era, where international travel bears constraints, delving into the indigenous wonders of Turkey stands out as a sanctuary for every travel enthusiast. It's the eclectic combination of serene heights, windswept coasts conducive for surfing, historical allure of the cities, and exhilarating motorcycle routes that mark Turkey as a multifaceted destination for every adventure lover.
The synthesis of seven climatic zones, mountainous terrains, and a multitude of rivers and lakes enhances Turkey's appeal as a vibrant source for assorted outdoor adventures. Now, more than ever, is the opportune moment to explore these indigenous wonders, with each activity resonating with the very essence of adventure, from tranquil balloon rides over ancient landscapes to the thrill of kitesurfing on azure waters.
The amalgamation of distinct cultures, architecture, and histories of the cities enhances the adventurous experience, making every moment spent in Turkey a profound journey through its grandiose past and vibrant present. The serene and secluded destinations like Faralya and Kabak valleys intersperse the adrenaline-packed activities, offering solace and peace amid the adventure.
By exploring Turkey, one not only experiences the sheer thrill and serene beauty but also immerses oneself in a cultural mosaic, enriching the soul and broadening the horizons. In a nutshell, the diversified terrains and plethora of activities in Turkey are bound to etch everlasting memories and are crucial additions to the bucket list of every passionate traveler and adventure enthusiast.