If you want to learn the specifics about Turkish addresses or how to check your own on the Turkish e-government gateway, keep on reading.
How to Address a Letter to a Friend in Turkey
You may have found yourself wanting to send a Turkish friend a postcard or letter only to discover that you know nothing about where to find or write their address, let alone how to address your friend.
Before you start writing a letter to a friend, you need to determine your level of relationship. Are they more of an acquaintance or a close friend?
Salutation
If you are not as close to the person, you will send the letter to, you can use words such as "değerli" or "sevgili," which translate to "valuable/esteemed" and "dear or beloved." You could follow these with "arkadaşım," which means my friend.
You could also use" canım," which is closer to (pleasing old/darling) if you are very close.
So,
Sevgili arkadaşım,
would be
My dear friend,
Alternatively, you could use their first name after "sevgili" instead of saying "arkadaşım." Example: Sevgili Murat.
***Do not use the word "Sayın" to address friends if you do not want to offend them by your distantness, as this should be only reserved for formal or professional letters.
Introduction
You should start by referring back to the last letter you wrote (if you have) or ask your friend how they are.
Some examples:
Nasılsın görüşmeyeli?

How are you since we last spoke/talked

Her şey yolundadır umarım.

Hope everything is going well.

Ailen nasıl?

İyisin, değil mi?
Body
The letter's main body should state your reason for writing or be used as a space to update the receiver on your life.
Some examples:
2 aydır Antalya'da yaşıyorum.

I have been living in Antalya for 2 months.

Sen ne zaman beni ziyaret etmeye geleceksin?

When will you come to visit me?
Ending/farewell
Your closing statement should convey well wishes and anticipate a reply.
Such as:
Mektubunu/cevabını bekliyorum.

I am waiting for your letter/reply.

Bana sık sık yaz (lütfen), olur mu?

(Please) write to me often, ok?
You should then move onto an appropriate farewell and sign the letter.
Here are some options:
Kendine (çok) iyi bak

Görüşmek üzere

Öpüyorum

Sevgilerimle / kucak dolusu sevgiler
After expressions such as "Sevgilerimle," you should put a comma and write your name at the bottom.
***Be aware of using expressions of affection such as hugs and kisses if you are addressing the letter to a member of the opposite sex as they may find it inappropriate or get the wrong idea. Exercise caution and good judgment.
Where to Write the Address on the Envelope
As the sender, you should write your name and then underneath your address on the top left corner of the envelope.
Should write the receiver's name and address, write the receiver's name and address on the bottom right corner.
The stamp, meanwhile, goes on the top right corner.
An Example of a (Fictional) Address: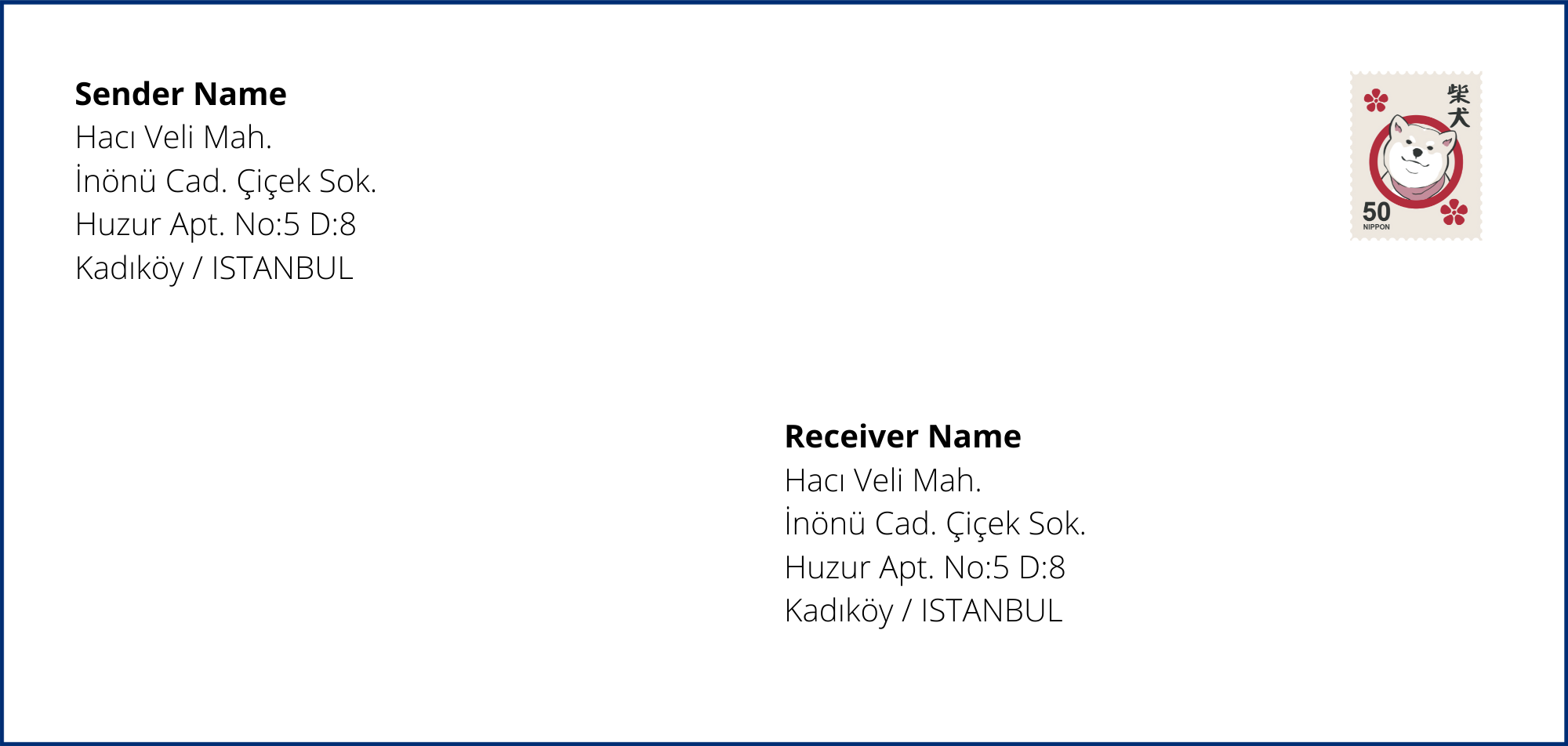 Turkish Words You Need to Know about Addresses
Here are some of the Turkish words you should know when writing a letter or asking for directions.
Semt: Although it can sometimes use this for the neighborhood, I'm afraid that's not right. The locality is a more accurate translation. Semts are bigger than neighborhoods and encompass a larger area. For example, Akaretler or Şaşkınbakkal are semts in Istanbul.
Mahalle: You will see this abbreviated as Mah. This is Turkish for neighborhoods, which are run by a mukhtar (village headmen). For example, Yalıkavak in Bodrum and Fenerbahçe in Kadıköy are neighborhoods.
Semt or mahalle are usually listed at the very beginning of the address.
Cadde: When accompanied by a name in front, you will see this in the form of Caddesi (same for Mahallesi), such as İnönü Caddesi. It is also often abbreviated as Cad. It means main road or street.
Sokak: This will often be abbreviated as Sok. These are smaller than "cadde" but still mean streets.
Bulvar: This means boulevard or avenue. It is abbreviated as "Bul." in Turkish. The most famous one in Turkey is Istiklal Caddesi.
Çıkmaz or çıkmaz sokak: A dead-end street or cul-de-sac.
Under neighborhood comes your street names.
Site (or Sitesi): A housing complex or a group of apartment buildings.
Bina numarası: Building number.
Kat (K): Floor.
Daire (D): Apartment unit or flat number.
Blok: Block number in a site or complex.
When writing your address, you should first register your site or building name and then list its number if it has one. You should then indicate the floor number of your flat number.
Posta kodu: In Turkey, postcodes are made up of 5-digit numbers. 48400 is for Bodrum in Muğla, and 34050 is for Eyüp in Istanbul.
This usually comes before the city and district on the address, but some also list it after.
İl: It means city. Istanbul, Muğla, and Antalya are cities.
İlçe: This means district. Beşiktaş, Bodrum and Alanya are districts.
On addresses, you will see the district name first and then the city, separated by a "/" and listed at the very bottom. Example: Ataşehir/ISTANBUL
What Is the AKS?
AKS is the Turkish Address Registration System (Adres Kayıt Sistemi), the centrally administered online system that records the addresses of all residents in Turkey, regardless of nationality.
The AKS is integrated with the Central Registration Administration System (Merkezi Nüfus İdaresi Sistemi or MERNIS for short), allowing the government to collate personal information on Turkish citizens and foreign nationals residing in Turkey and ensure it complies with the law.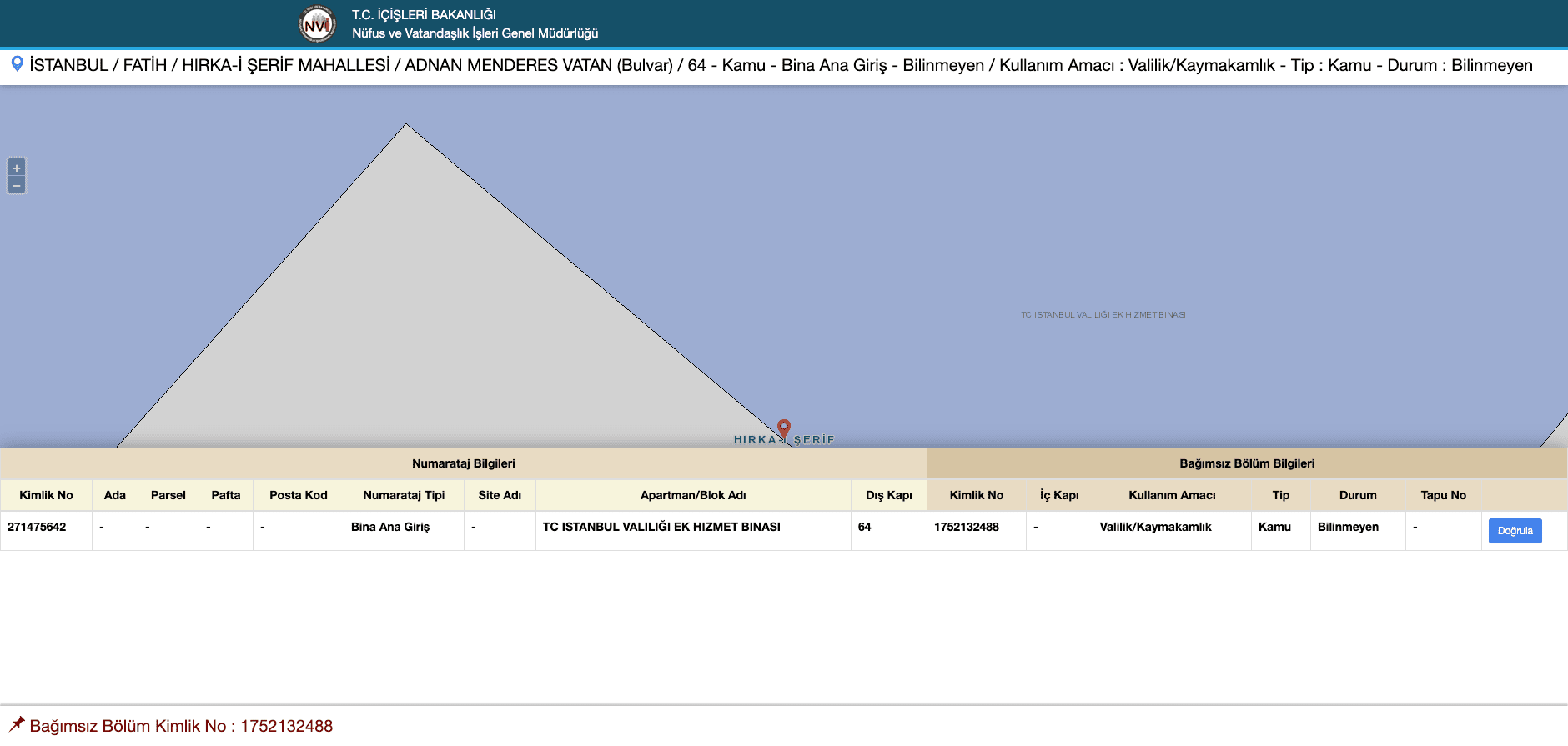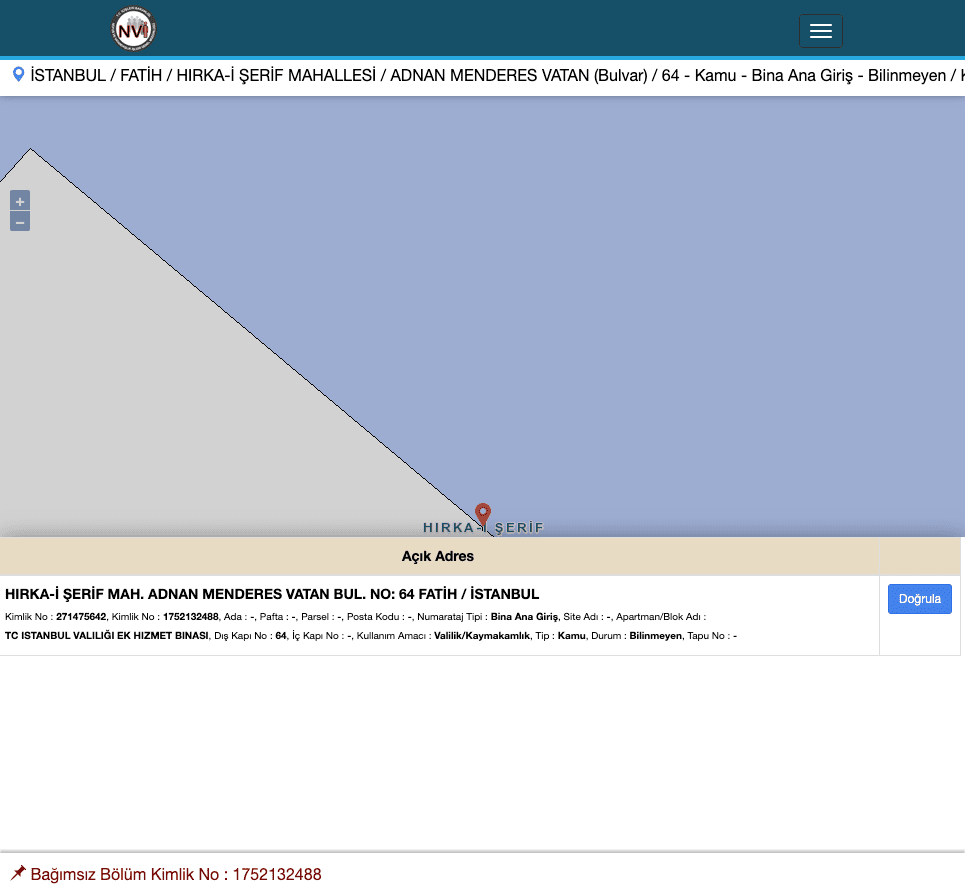 You can access the system here and learn how to see your address in the proper format.
Having a registered address in the AKS has been a requirement for residence permits since 2015. The address you see listed in the AKS will be the one on all official documents and formal letters addressed to you.
The difference between "Sorgula" and "Doğrula"
Once you visit the AKS site, you will see that there are 2 options.
The first is sorgula, which allows you to inquire about an address. After selecting your address (city, street, house number, etc.), the system will show you which ID number is registered in the address.
The second is doğrula, which is to validate if a person lives at the registered address. To verify that, you will have to enter your ID number.
If you want to know how to register or update your address at the Nüfus Müdürlüğü (Population Directorate), check out this article.