Introduction
After the devastating earthquake that struck Turkey on February 6, 2023, many people are looking for ways to help the communities that were directly impacted by the disaster. The AFAD Volunteering System provides people with the opportunity to lend a helping hand in the lead-up to, during, and in the aftermath of disasters and other types of emergencies by making use of their physical strength, time, knowledge, and experience. In the following paragraphs, we will provide a detailed walkthrough of the steps necessary to join AFAD as a volunteer in Turkey.
Requirements to Become an AFAD Volunteer
Volunteering for AFAD is open to any citizen of Turkey who is at least 15 years old and a Turkish national. There is a minimum age requirement of 18 years old in order to participate in the Support AFAD Volunteer trainings. Applications to become an AFAD volunteer are accepted through e-government, and prospective volunteers are notified of the status of their applications through email and text message. Unfortunately, non-Turkish citizens who are currently residing in Turkey are not permitted to volunteer for AFAD.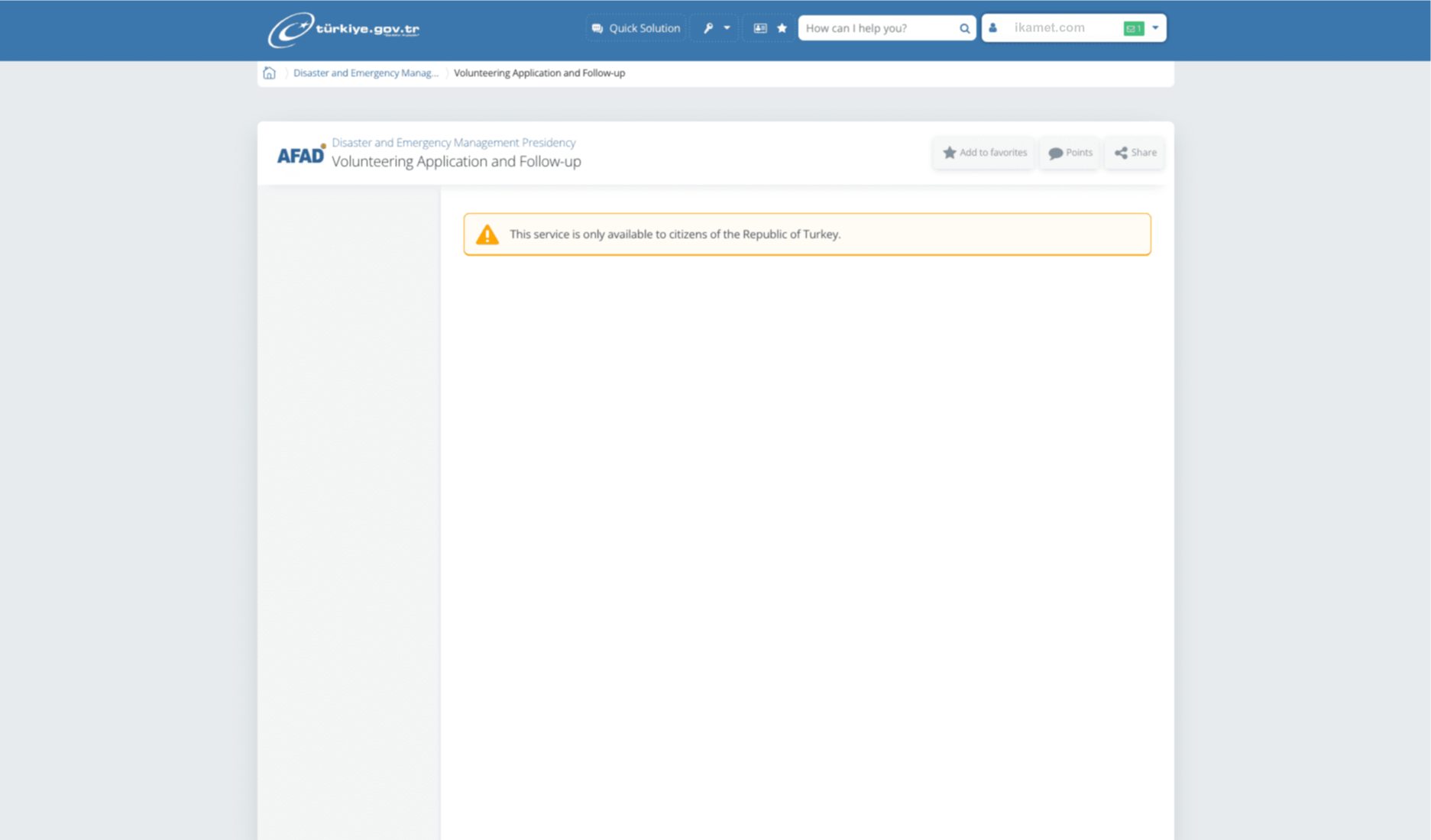 Ways for Foreigners to Help in the Wake of the 2023 Earthquake in Turkey
For foreigners who want to help in the aftermath of the February 2023 earthquake in Turkey, they can reach out to local search and rescue groups or participate in community efforts to gather equipment and supplies. Another way to help is by making donations to organizations providing aid to the affected communities.
How to Apply
The application process for AFAD volunteer work is completed online through the government's e-government portal. After you have completed and sent in your application, you will shortly thereafter be sent an SMS as well as an email that will direct you to the AFAD volunteering screen that is located on the organization's website. You will be able to keep track of the activities, training, and responsibilities that fall under the purview of the volunteering system by using the volunteering portal.
Conclusion
Becoming a volunteer with the AFAD is an excellent way to offer support to communities in Turkey that have been impacted by various emergencies and disasters. You will be able to make a contribution to the recovery efforts and make a difference if you make use of your skills and experience. Keep in mind that in order to become an AFAD volunteer, one must be a Turkish citizen, have reached the age of 15, and be at least 15 years old.
Visit the AFAD website to find out more information, and submit your application to become an AFAD volunteer as soon as possible.
Sending Our Thoughts and Prayers to the Victims of the Turkey Earthquake of 2023
We are thinking of everyone affected by this tragedy and sending our condolences. We hope that they are able to find the support and solace they need during this trying time.