The Konya Guide
Konya is Turkey's 7th largest city (in terms of population) and a former Seljuk capital, making it one of the world's oldest urban centers. Situated to the southwest of the central Anatolian region, Konya is about a 2-hour drive away from other big cities such as Ankara, Antalya, and Adana.
Konya is also known as Turkey's wheat silo, producing over 10% of its stock. Konya is renowned for growing sugar beets, potatoes, and onions, among many other products.
Konya has also been deemed Turkey's pearl of Islamic tourism, beckoning over 2 million pilgrims and mystics annually.
Is Konya the right fit for you? Let's see.
Retiring in Konya
Although Konya is not in the top 10 list of Turkey's top retirement destinations, it has seen growing interest in the last decade, especially from the Middle East.
Konya could be the perfect place for those seeking a more calm and devout life surrounded by majestic architecture that witnessed many civilizations; the Roman, Seljuks, Karamanids, and Ottomans, to name a few.
The weather can be described as semi-arid and cold, and even though it can get quite dry and hot in summers, the nights are cool.
Compared to Istanbul and Ankara or Antalya and Muğla, Konya is an affordable city to live and retire in.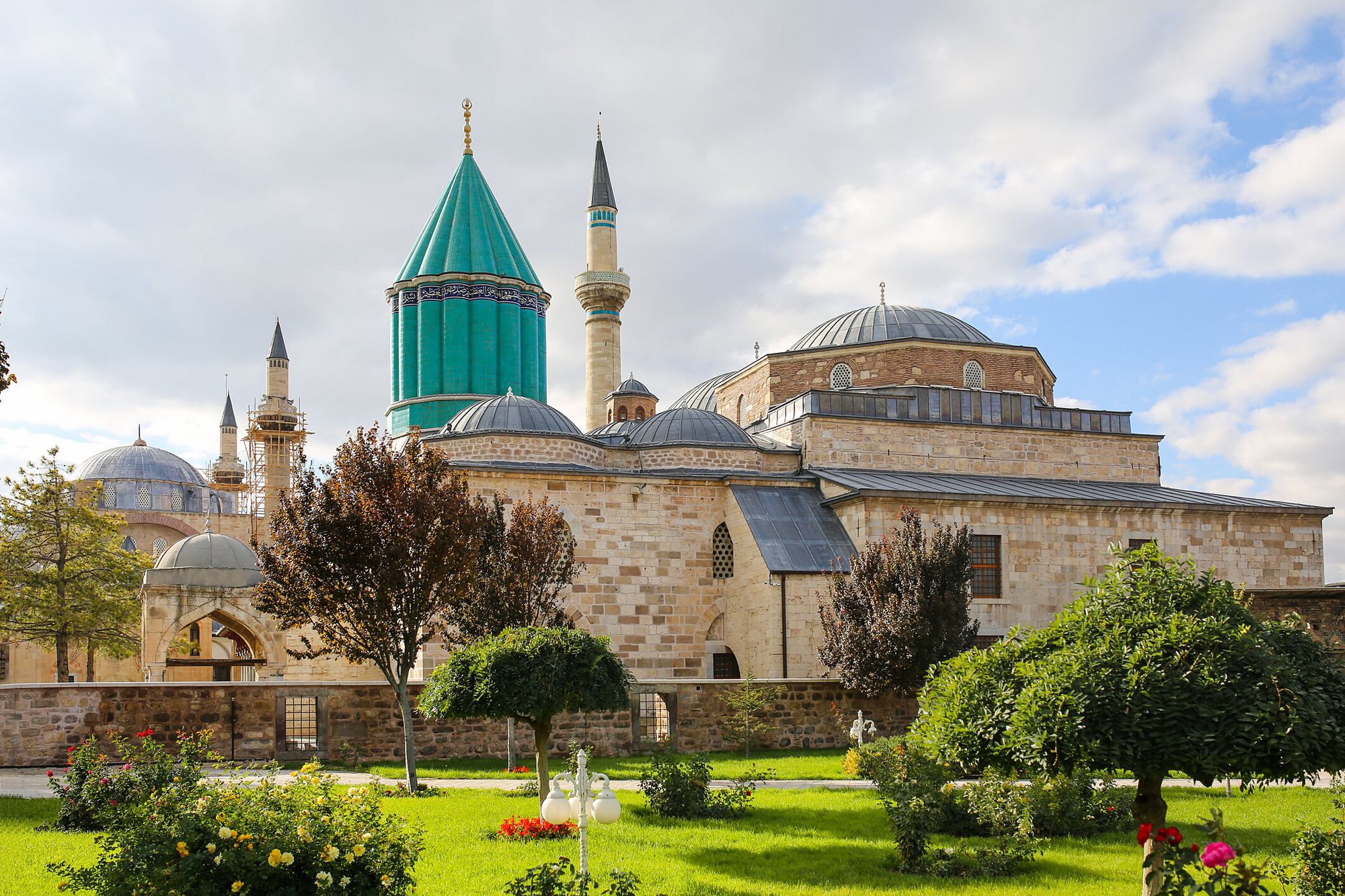 Lifestyle in Konya
Konya is turkey's largest city by surface area, covered with golden steppes, plateaus, lowlands, and a critical turkey center.
The Taurus mountain range offers excellent opportunities for hikers and wildlife enthusiasts to its south. Konya is also home to AcıgöL, a tectonic lake, and lake Tuz, turkey's second-largest lake, is located at the intersection of Konya, Ankara, and Aksaray.
The vast city is also home to 5 universities and has a high student population. The city's streets are wide and flat, which means you can bike pretty quickly. There are hardly any traffic jams.
The inhabitants of Konya place great importance on spiritualism and religion, which make it an excellent place for the pious or conservative-minded.
Cost of Living in Konya
It is possible to get by on the national minimum wage (Around $380) If you live in Konya. Renting is 50% cheaper than in Istanbul, and the houses are much more significant. For the price you pay for a single-person flat in Istanbul, you could easily afford a 3-bedroom apartment in Konya.
Touristic places such as the grand bazaar of Konya may be slightly more expensive than the rest of the city for your weekly grocery shopping. Kadınlar Pazarı (Translated literally as a women's bazaar) Sells the city's most colorful array of organic produce. Compared to the grand bazaar of Konya, you'll have a much better variety of cheeses, fruits, and vegetables here and at more affordable rates.
Public transportations and taxis are cheaper than other metropolises in turkey, with a single fare costing on average TL 2.50.
5 Things You'll Love About Konya
From the deliciously carnivorous etli ekmek, fırın kebab and kuzu (lamb) tandır to okra soup, and yağ somunu, a butter- and cheese-stuffed baked bread consumed at breakfast, Konya cuisine will not let foodies down. Höşmerim, or cheese halva, is also a popular dessert in Konya.
From St. Paul Catholic Church to the mosques of Aziziye and Selimiye, the city is home to many beautifully built religious and holy complexes. The city also has some of the finest examples of Seljuk stonemasonry, such as the Ince Minare Madrasa.
Rumi and whirling dervishes
perhaps konya is best known for being the real home of great 13th century Sufi poet Rumi, or as the Turks call him, Mevlana. Rumi's shrine is also the city's primary tourist attraction, attracting millions of pilgrims every year. Whirling dervishes of the Mevlevi order leave visitors in awe with their dizzying yet mesmerizing ritual of trance-like spinning.
the Hittite rock relief of Ivriz or the stone age settlement of Çatalhöyük shows that Konya is one of the oldest settlements of Anatolia and the world. These places offer a window into how humankind took the first steps toward city life.
The Konya Tropical Butterfly Valley houses the most extensive butterfly collection in Europe —butterflies in all shapes, colors, and sizes create a magical setting for nature photography. And as a bonus, you can also discover a mini-Japan within central Anatolia if you visit the Kyoto Japanese Garden.
5 Things I Wish I'd Known Before Moving To Konya
Especially when in public, try to be quiet and as respectful as you can to others, and refrain from PDA at all costs. Laughing or speaking loudly on public transport will be frowned upon by the elderly. Also, don't expect to shake hands with women if you are a man, and vice versa – unless, of course, they offer to do so.
During the month of Ramadan, especially if you are not fasting and practicing Muslim, you will find it odd that a lot of the restaurants remain closed during the day or for the entire month. Many of Konya's populations are practicing Muslims and have adjusted their daily life according to religious traditions. It would be best if you also refrained from eating or drinking on public transport or in village squares during the day in Ramadan as not to offend anyone.
Because there are no mountains or hills to break or soften winds, Konya's winters are breezy and chilly. While you won't see heavy snowstorms like those in the country's east, the winds are so strong and so cold that many liken the feeling to becoming paralyzed in the face. Layering clothing is also of little help.
Most locals in Konya do not know a foreign language, but they also have a distinctive accent when speaking Turkish. If you are a new learner, you will have trouble understanding. (For starters, they call Konya "Gonya.")
If you've lived in Istanbul, Ankara, or Antalya and aren't very religious, chances are you will find Konya a little too austere for your liking. If you crave the typical expat experience and vibrancy of social life, you may be disappointed. Nightlife is also pretty non-existent.
5 Nearby Towns to Visit
Çumra (for Çatalhöyük)
Şereflikoçhisar (Lake Tuz)
Seydişehir
Beyşehir
Eskişehir (via high-speed train)