According to the latest decision by the Presidency of Migration Management of Turkey, foreigners who wish to obtain short-term residence permits or family residence permits via purchasing immovable property in Turkey will be subject to a minimum value as part of updated criteria.
Foreign people who own immovable property in Turkey may be eligible for residence permits under Section B of Article 31 of Law No. 6458 on Foreigners and International Protection (LFIP), which was passed in 2012.
Foreigners were only permitted to live in the country for a maximum of three months under the previous regulation, which varied based on the sort of real estate purchased. According to existing legislation, foreign nationals who purchase real estate are awarded a residency permit for a period of up to two years.
What Has Changed with the Latest Decision?
As of May 5, 2022, if you or your family wish to benefit from this scheme, you will have to make sure the property you buy from now onwards is worth at least:
$75,000 and over if it is located in one of the 30 metropolitan cities in Turkey,
$50,000 and over if it is located in one of the remaining 51 smaller cities in Turkey.
The requirement will apply to all districts in these cities, meaning that foreign nationals will have to buy a house from Bodrum or Fethiye, for example, that is at least $75,000 because it is under the jurisdiction of Muğla Metropolitan Municipality.
*If the value of the property you purchase in Turkey reaches $250,000 before June 13, 2022, you may be eligible for the "Turkish citizenship by property investment" program. This must be done in order to be eligible for the program.
Here's where you can learn more about it: Turkish Citizenship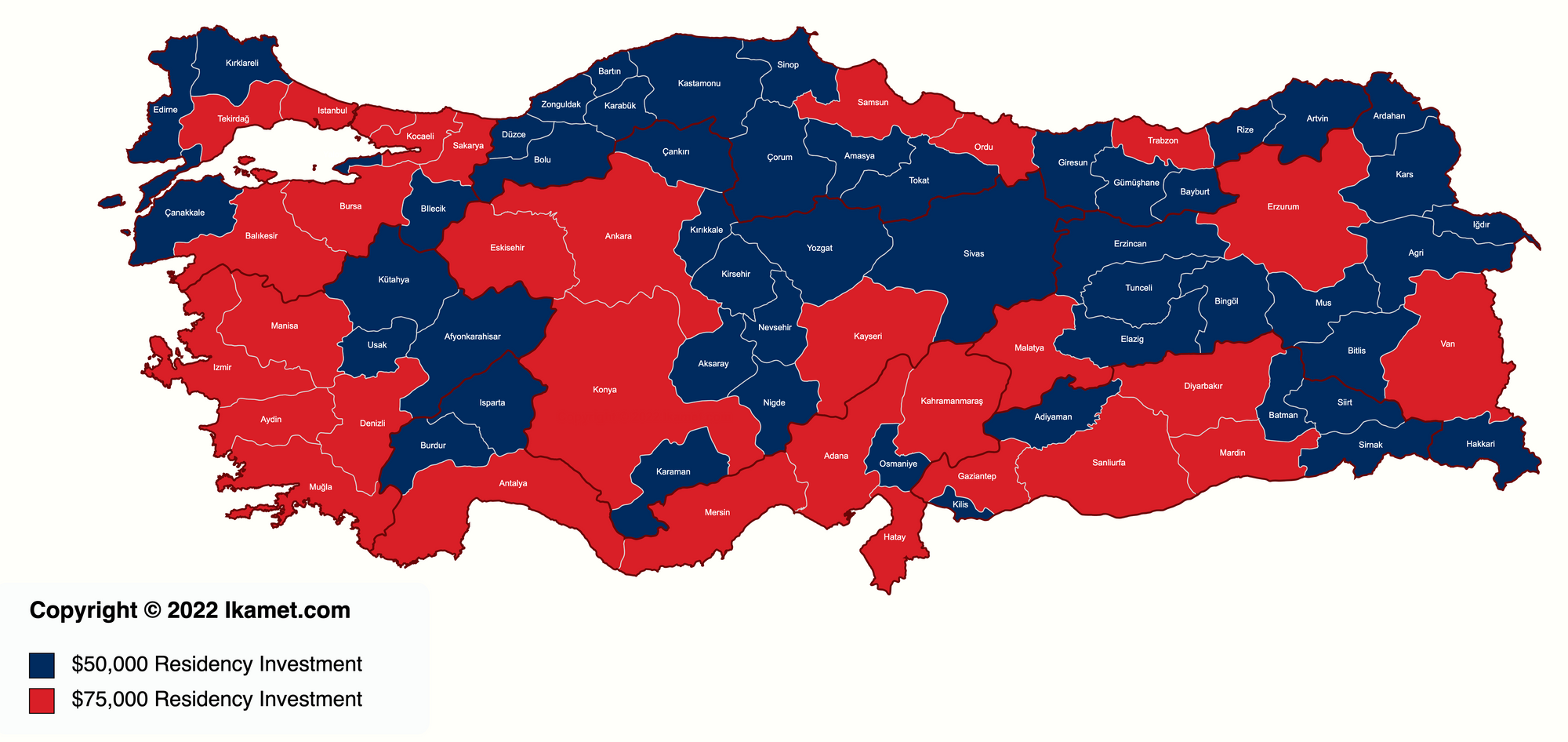 Which Cities Are Included?
A list of the 30 cities that qualify for the $75,000 and are hence deemed "large cities" managed by their respective metropolitan municipality (büyükşehir belediyesi) is presented below. The color-coded metropolitan cities can be seen in the diagram above.
Adana (Adana Metropolitan Municipality)
Ankara (Ankara Metropolitan Municipality)
Antalya (Antalya Metropolitan Municipality)
Aydın (Aydın Metropolitan Municipality)
Balıkesir (Balıkesir Metropolitan Municipality)
Bursa (Bursa Metropolitan Municipality)
Denizli (Denizli Metropolitan Municipality)
Diyarbakır (Diyarbakır Metropolitan Municipality)
Erzurum (Erzurum Metropolitan Municipality)
Eskişehir (Eskişehir Metropolitan Municipality)
Gaziantep (Gaziantep Metropolitan Municipality)
Hatay (Hatay Metropolitan Municipality)
Istanbul (Istanbul Metropolitan Municipality)
Izmir (Izmir Metropolitan Municipality)
Kahramanmaraş (Kahramanmaraş Metropolitan Municipality)
Kayseri (Kayseri Metropolitan Municipality)
Kocaeli (Kocaeli Metropolitan Municipality)
Konya (Konya Metropolitan Municipality)
Malatya (Malatya Metropolitan Municipality)
Manisa (Manisa Metropolitan Municipality)
Mardin (Mardin Metropolitan Municipality)
Mersin (Mersin Metropolitan Municipality)
Muğla (Muğla Metropolitan Municipality)
Ordu (Ordu Metropolitan Municipality)
Sakarya (Sakarya Metropolitan Municipality)
Samsun (Samsun Metropolitan Municipality)
Şanlıurfa (Şanlıurfa Metropolitan Municipality)
Tekirdağ (Tekirdağ Metropolitan Municipality)
Trabzon (Trabzon Metropolitan Municipality)
Van (Van Metropolitan Municipality)
Those wishing to purchase property in the remaining cities and districts, such as Çanakkale, Rize, or Yalova, will need to satisfy a minimum of $50,000 in order to be eligible for the resident permit scheme, according to the Turkish government.
How Can I Determine the Property's True Value?
For people who have purchased real estate as of April 26, 2022, and who are submitting an application for their first short-term residence permit through a real estate transaction. All applications will be subject to the filing of an appraisal report on the property in question.
If your application does not meet the required standards, your permit application will be rejected, and you will be asked to reapply under the short-term residence permit for tourism purposes within ten days of your initial application being rejected.
To qualify for a residence permit through real estate, conduct an evaluation report before purchasing your new home to avoid surprises, as property values are inflated during these economic times.
Do not be afraid to request a recent appraisal report from your realtor.
Can My Family Benefit from This Scheme?
The most important requirement for any foreign national who wishes to be eligible for this plan is that the real estate they purchase is listed and used as their primary place of abode.
The foreign national family members can apply for a residence permit in this context if they have shared or joint ownership of the residence. Under the family members category, Turkish authorities count the applicant's spouse, child (under 18 years of age), and dependent adult child.
Is a Short-Term Tourist Permit Still Possible?
In short, yes, if you want to apply for residency by purchasing low-value real estate, signing a rental agreement, staying in a hotel, or staying with relatives and friends, the information in this article will not be relevant to you.
Finally, Here Are Some Examples.
If you recently bought the property after April 26, 2022, Alanya, and paid 25,000 for a one-bedroom apartment in the city center, you're still eligible for residency under the tourism classification system despite the low value of your property.
Even if you paid 35,000 for a two-bedroom flat near the marina in Bodrum before April 26, 2022, and your permit is designated through real estate, you can keep your residency under the property class because it was purchased before the new restrictions were implemented.
Suppose you have any further questions about this decision. In that case, you can get detailed information from the Foreigners Communication Center (YIMER) by calling 157 if you are within Turkey or +90 312 157 11 22 if you are abroad.
If you want to know how to apply for a residence permit in Turkey and what documents you will need, head here.
You may find out more about life as an expat in Turkey by reading this guide.
In the case of regular short-term residence permits issued for tourism-related activities, there is no effect from this. People applying for residency for the first time will be affected only if they purchased a property with the goal of having the property classification designated.